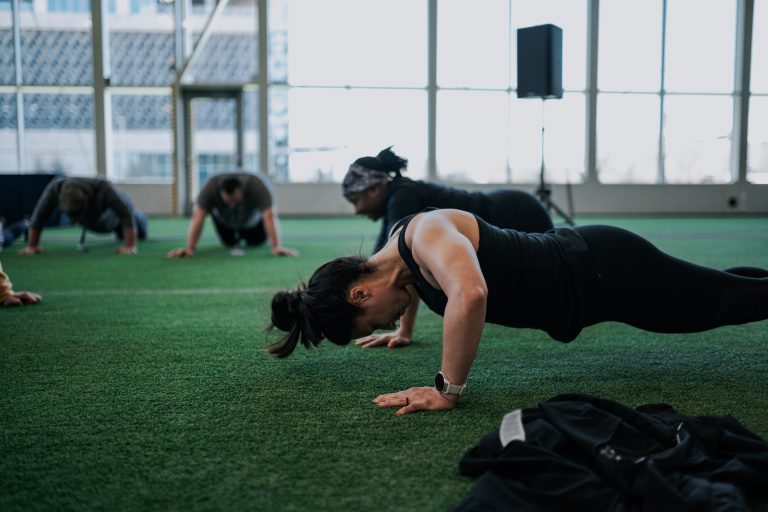 The First Responder community has a unique set of challenges and demands that must be accounted for through diet and supplementation. Thorne's 35+ year legacy as a leader in human health and performance allows for a unique ability to provide nutrients and health information that enable you to live healthier for longer through personalized, scientific testing and solutions. Thorne is an industry leader in investing in comprehensive testing, sourcing high-quality ingredients, and creating a clean manufacturing process to provide solutions for your health.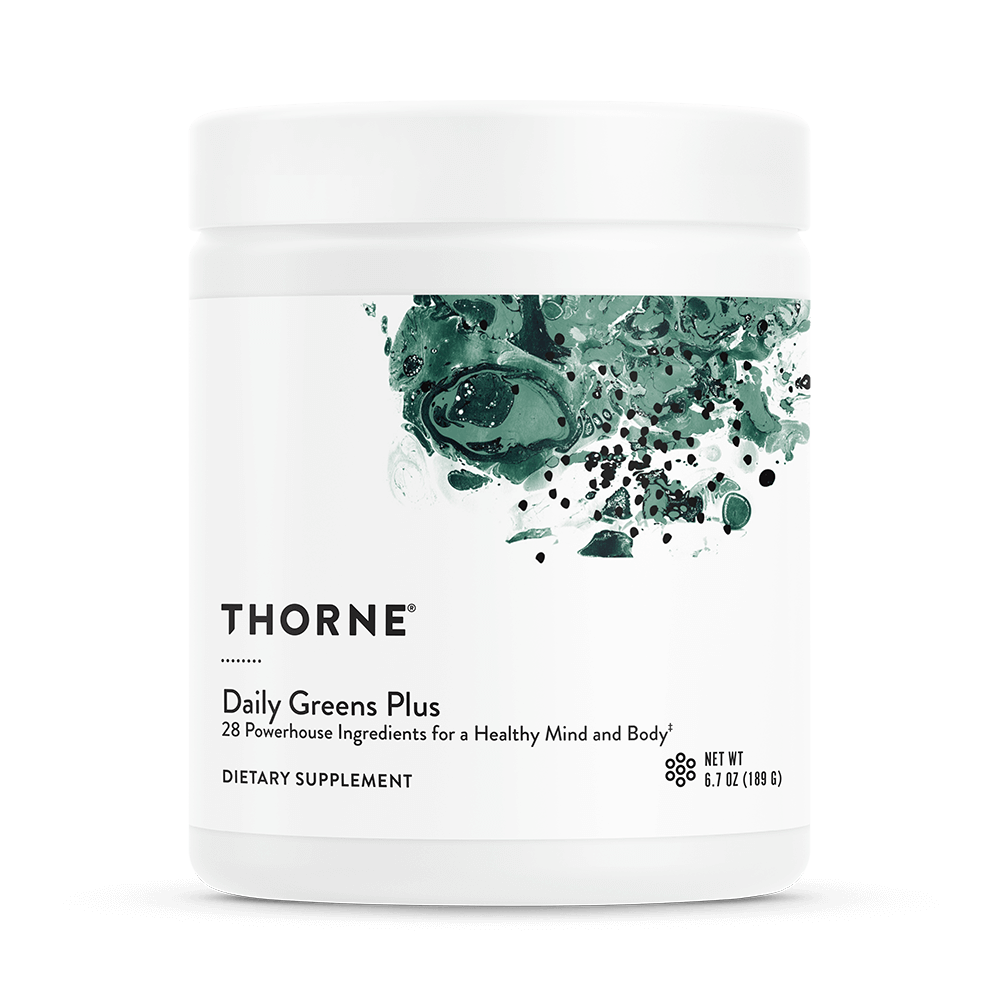 Cellular health and energy production is enhanced for a greens powder you can feel
Greens-based support helps provide foundational daily nutrition
Added benefit to a well-rounded approach to a healthy aging lifestyle
Support for cognitive performance and having a clear head
Promotes a healthy stress response and optimal immune function
Helps protect against environmental stressors that can cause cellular damage
Benefits physical endurance, as well as physical and mental recovery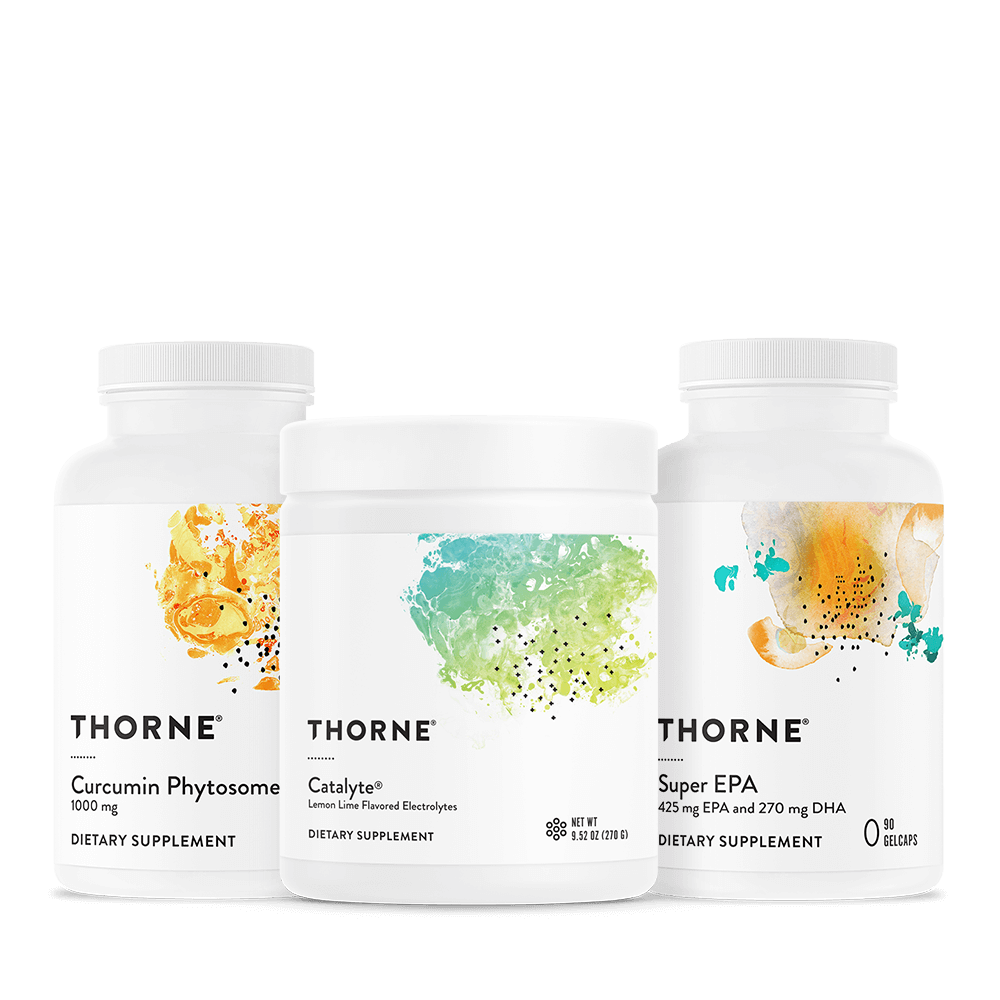 Thorne's Recovery Bundle helps replenish lost nutrients and promotes the repair and rebuilding of muscle tissue. All three products are NSF Certified for Sport®.
Catalyte is a supplement that supports optimal hydration. It's formulated with the typical ratio of sodium that is found in sweat, and it contains a blend of potassium, calcium, magnesium, and zinc that replaces the primary electrolytes lost in sweat. Catalyte also supports the body's process of repairing and rebuilding muscle.
Curcumin Phytosome is a curcumin supplement that helps maintain a healthy inflammatory response throughout the body and provides relief from injuries and overuse of muscles and joints
Super EPA  is a premier fish oil supplement that contains the essential fatty acids EPA and DHA to help maintain healthy heart, brain, and neurological function, while supporting the normal inflammatory response in muscles and joints.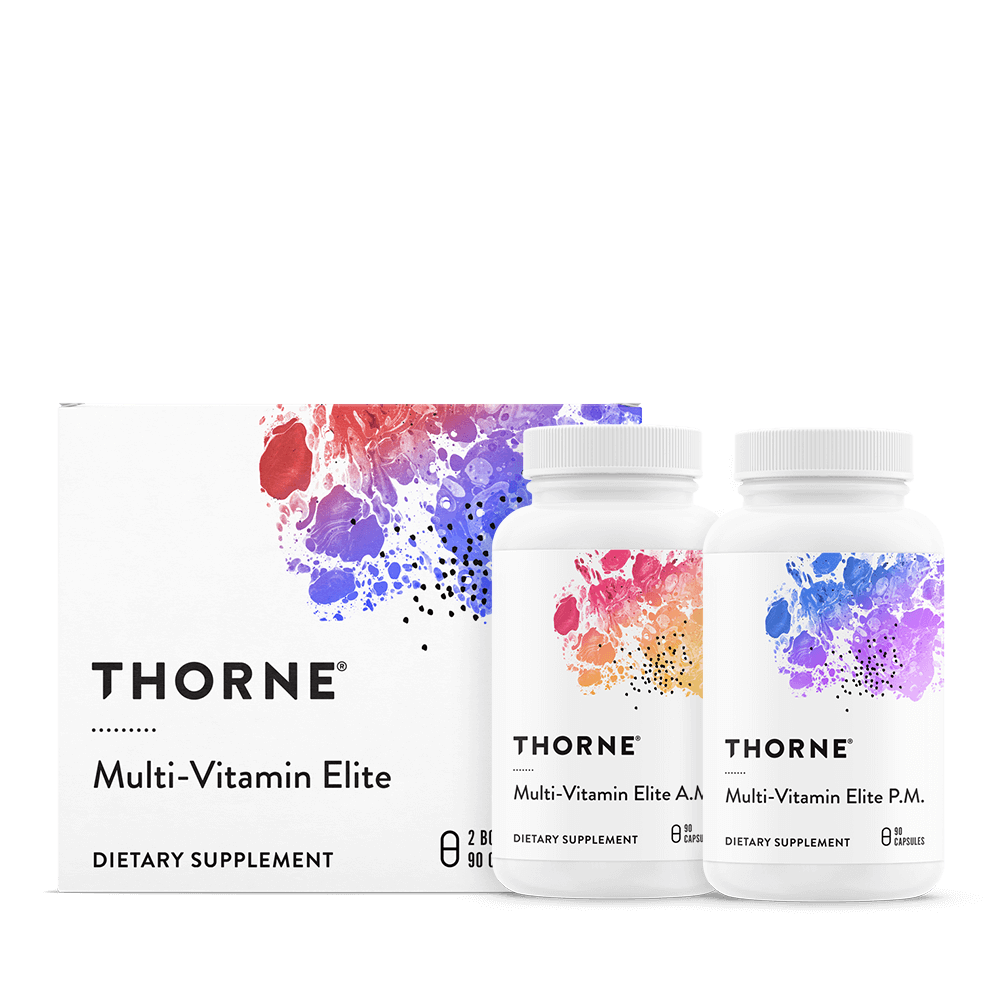 Multi-Vitamin Elite's complimentary AM and PM formulas are designed to support athletic performance.* The AM formula promotes energy production, while the PM formula enhances recovery.
Thorne's Multi-Vitamin Elite provides active individuals who have high-performance nutritional regimens with essential nutrients in two complementary formulas.
Both formulas contain a full complement of vitamins and minerals in their most absorbable forms. Vitamin D promotes strong bones and healthy immune function. B vitamins support heart, blood vessel, and nerve health. Vitamins K1 and K2 contribute to bone and blood vessel health.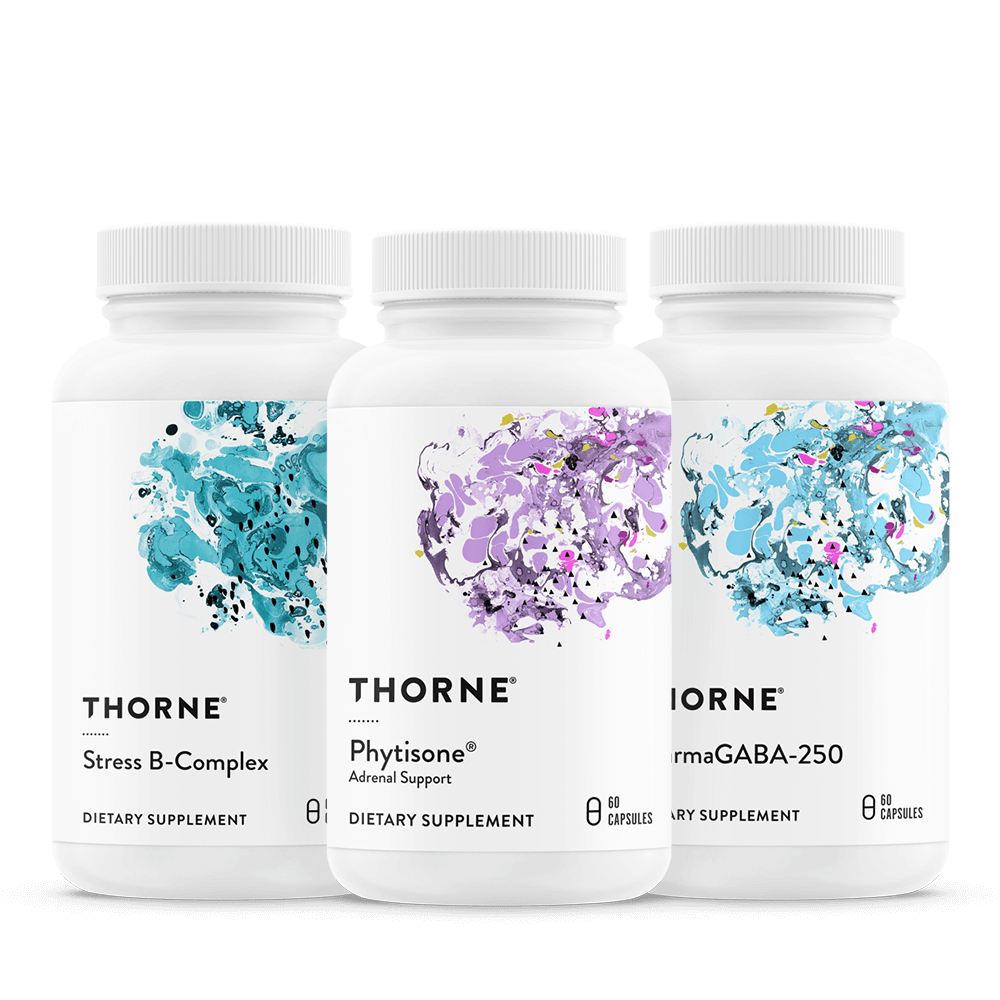 A trio of supplements that can help with stress management*
Stress B-Complex contains an optimal balance of essential B vitamins, with extra vitamin B5 to support healthy adrenal and immune function.*
PharmaGABA-250 features a natural source of the inhibitory neurotransmitter – GABA. GABA supports restful sleep, acts as a "brake" on stress, and promotes a focused but calm state of mind.* 
Phytisone® is a unique, non-glandular formula of botanicals and nutrients that help optimize the adrenal gland's response to stress and also help reduce fatigue.*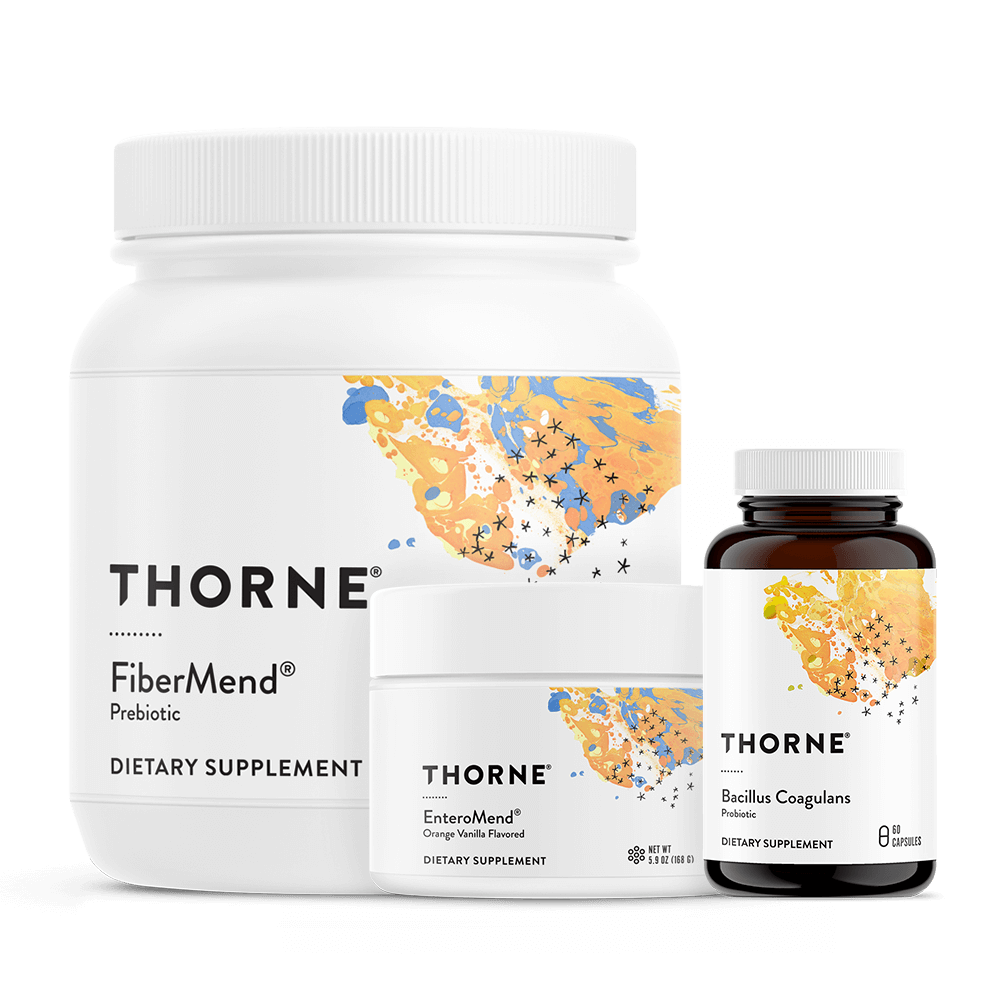 A trio of supplements to promote healthy gastrointestinal function*
Bacillus Coagulans is a stable probiotic bacteria that survives stomach acid and retains its potency in the intestines, where it acts to promote healthy gut flora.*.*
FiberMend® is a blend of soluble prebiotic fiber that helps maintain healthy glycemic control and promotes regularity and optimal digestive function.*
EnteroMend® helps maintain a healthy inflammatory response in the GI tract, soothes the GI tract's mucus membranes, and supports colonic permeability and bowel regularity.*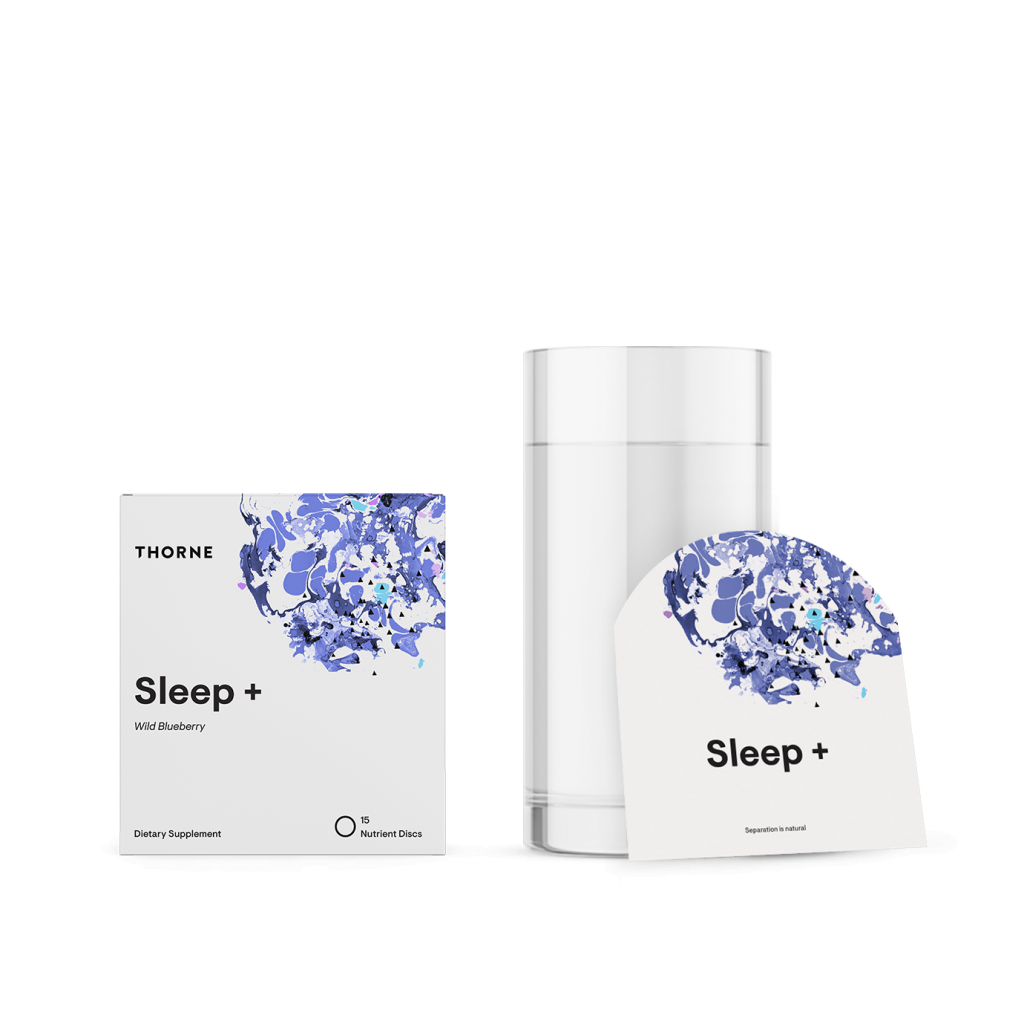 A soothing blend of sleep-supportive nutrients that help you 
Fall asleep: Supports the natural hormonal activity that initiates sleep*
Stay Asleep: Promotes a relaxed state of deep sleep and helps you stay asleep throughout the night*
Feel Refreshed: Without waking up groggy or with the foggy-headed feeling common with other sleep aids
Melatonin – the natural sleep hormone*
Reduce the time before sleep onset*
Support sleep maintenance – the ability to stay asleep*
Enhance deep sleep*
L-Theanine – calming effects for body and mind*
Prepare the brain for a night of restful sleep by promoting increased alpha-wave brain patterns, which are most active when the brain is in a relaxed state*
Improve sleep quality*
Enhance sleep efficiency*
Decrease waking times during the night* 
Chamomile – an ancient botanical for restful sleep*
Promoting sleep initiation*
Users reporting significantly better sleep quality after consuming a chamomile preparation*
The active component in chamomile attributed to its relaxing effects is an antioxidant called apigenin, which provides consistent support for feelings of sleepiness and prepares the brain and body for a restful night of sustained sleep*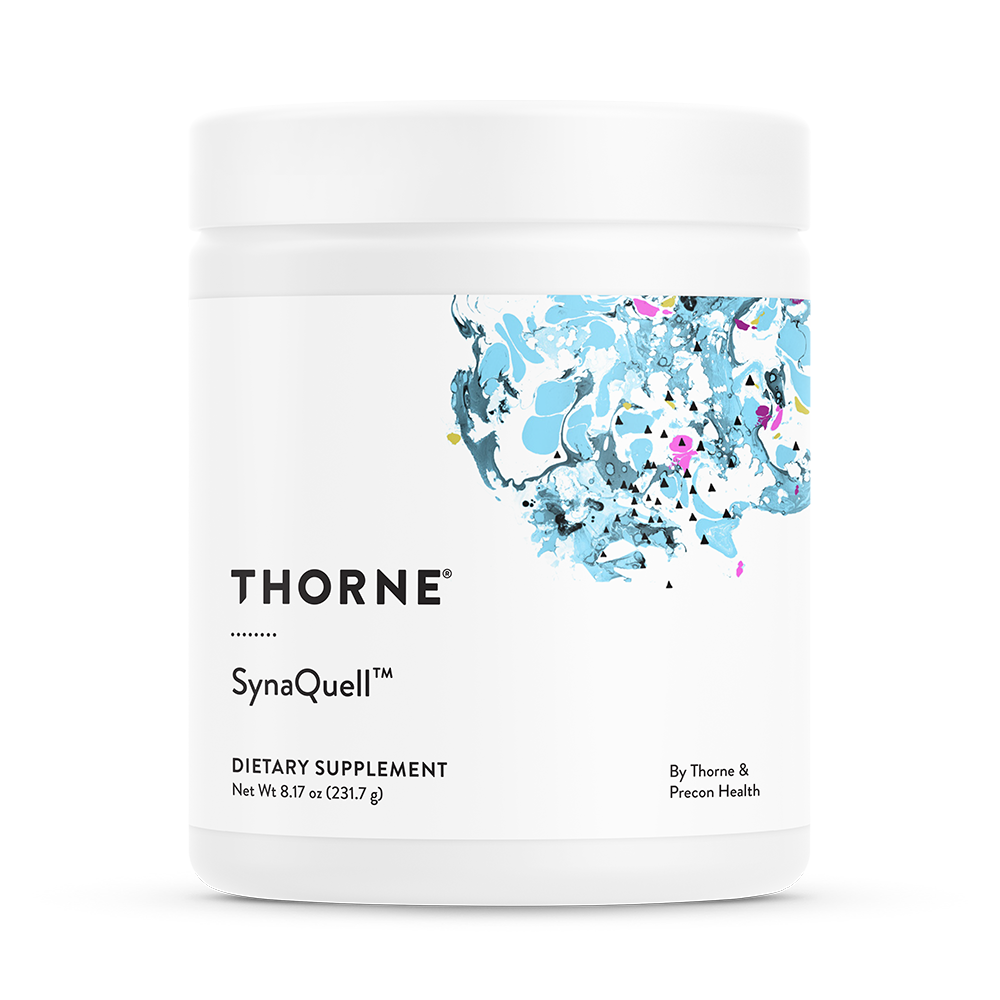 A multi-ingredient nutritional supplement that supports healthy brain structure and cognitive function*
Good nutrition is essential for healthy brain function. The brain needs nutrients to provide energy to fuel the nerves, support neurotransmitter production, and protect against oxidative stress. That is why diet and supplementation are so important, both before and after participating in physically demanding activity and for any individual who needs brain-supportive nutrients.*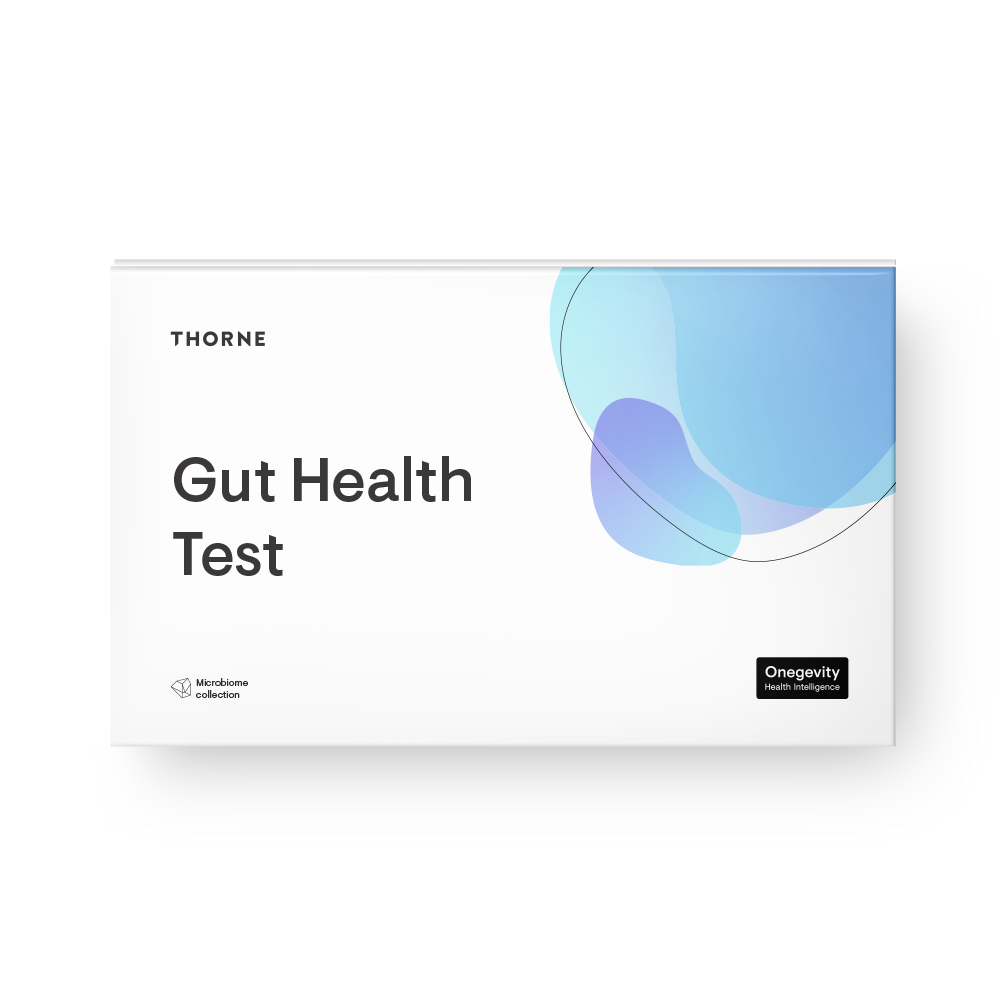 Gut health is a foundation for wellness. Thorne's Gut Health Test provides a detailed analysis and a personalized plan that targets your GI discomfort to optimize wellness. 
Discount does not apply to test kits.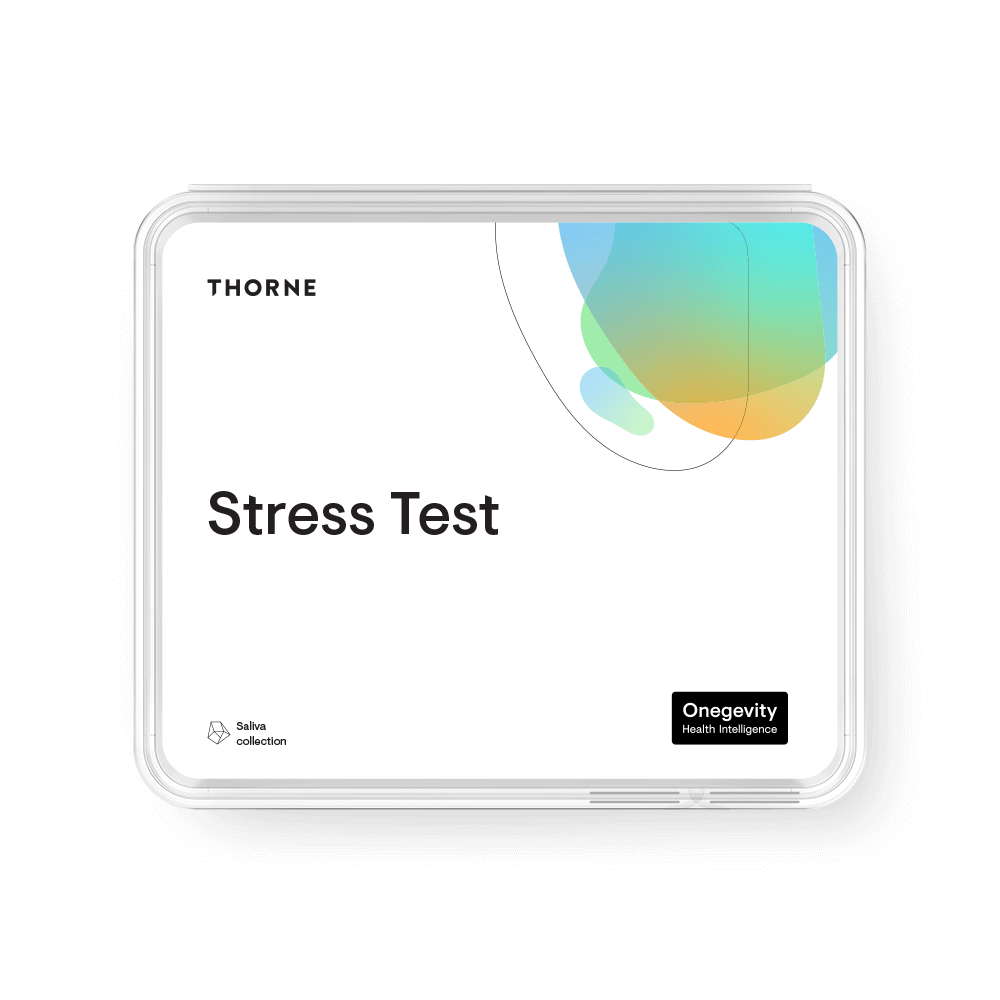 This at-home saliva test provides insights into your stress response and adrenal health by measuring hormone fluctuations. Results include a personalized health plan.
Discount does not apply to test kits.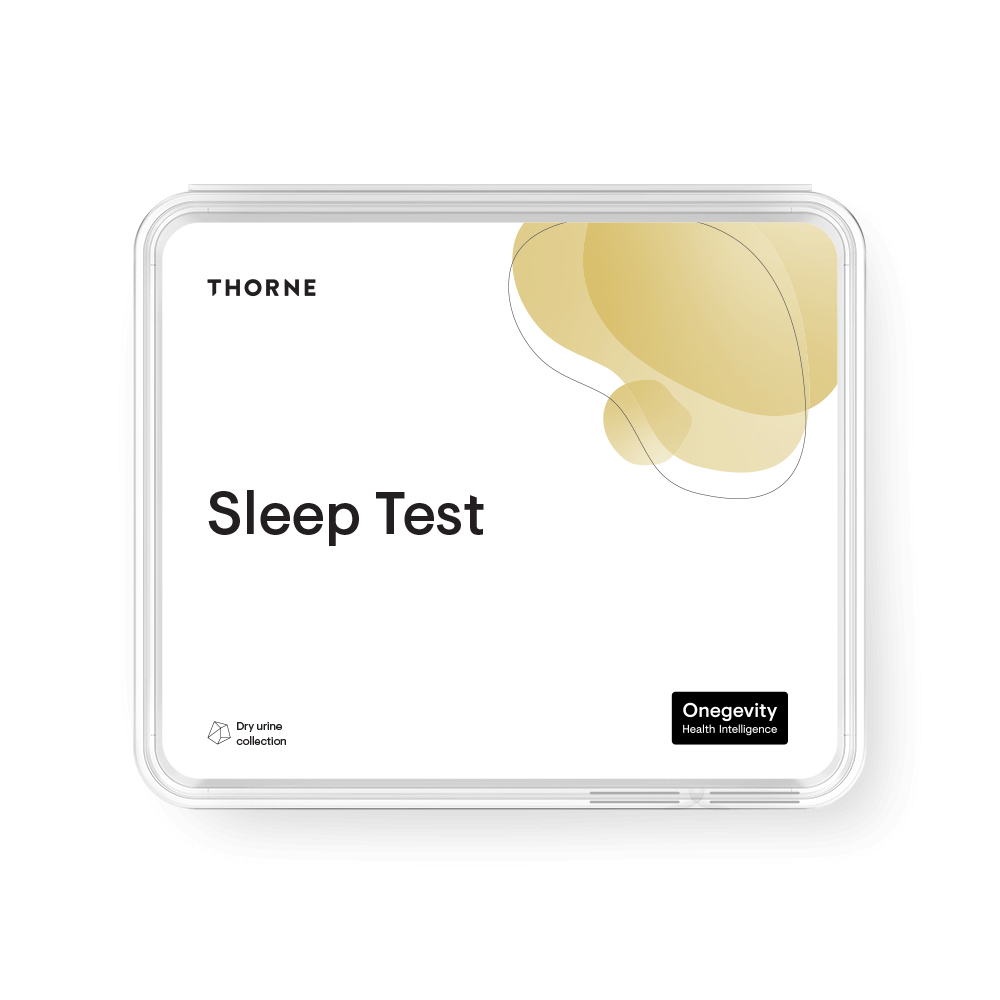 Discover why you're having trouble sleeping. This at-home test tracks hormone fluctuations that regulate the sleep-wake cycle. Results include a personalized health plan.
Discount does not apply to test kits.
* These statements have not been evaluated by the Food and Drug Administration. This product is not intended to diagnose, treat, cure, or prevent any disease.
Need more help to determine the best supplements for you? Take the following quiz.